Plans Drill Program to Test Large VMS Target at Gold Standard
Vancouver, B.C., November 6, 2023 – Storm Exploration Inc. (TSX-V: STRM) ("Storm" or the "Company") is pleased to announce that it has signed a Memorandum of Understanding ("MOU") with the Nigigoonsiminikaaning First Nation (the "NFN") concerning the Company's 100% owned Gold Standard Project located 65 km north of the community of Fort Frances in northwestern Ontario. The Gold Standard Project hosts multiple high-grade gold showings as well as a large, untested VMS target.
"Storm is pleased to be working with the Nigigoonsiminikaaning on the exploration and development of the Gold Standard Project," said Storm's President and CEO Bruce Counts. "Involvement of local first nations is an important component to the success of a project, and with this agreement in place, Storm is in a position to plan a drill program that will test the large VMS target identified on the project earlier this year."
The MOU establishes a framework for ongoing consultation with the NFN and provides the community with an opportunity to participate in the project through employment, training, and business development. Under the terms of the MOU, the Company will contribute to a community fund an amount that is proportional to its exploration expenditures and will issue 1,300,000 common shares of Storm over four years, commencing with 100,000 common shares upon TSXV acceptance.
Gold Standard Project
The Gold Standard is located within the Manitou-Stormy Lake greenstone belt and is prospective for gold and base metals. The property hosts three historical small-scale gold mining operations that date from 1901 to 1903. These gold showings have seen little modern exploration and have never been tested with drilling. In 2022, Storm confirmed the high-grade nature of the old workings with grab samples that returned grades up to 166 g/t Au (see Storm news release dated 27-Sep-2022).
A property-wide airborne electromagnetic survey conducted by Storm in October of 2022 identified a large conductivity anomaly with a strike length of more than five kilometres (see Figure 1) and occurs in host rocks that are often associated with Volcanogenic Massive Sulphide ("VMS") mineralization. This is supported by copper and zinc mineralization noted in shallow historical drill holes completed between 1969 and 1971 (see Storm news release dated 8-Feb-2023)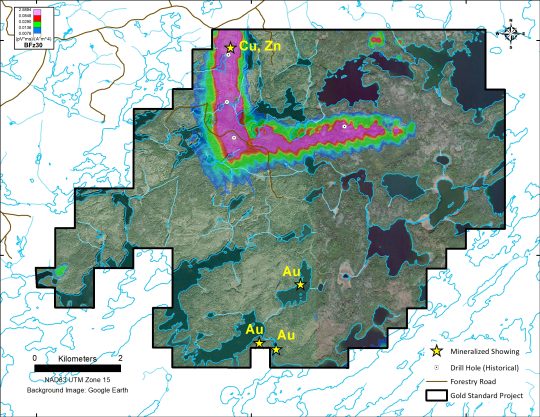 The road-accessible Gold Standard Project comprises 284 mineral claims covering 6,016 ha and is located 65 km north of the community of Fort Frances. The project lies withing the traditional territory of the Naicatchewenin and Nigigoonsiminikaaning First Nations and Storm now has agreements in place with both groups.
Next Steps
Planning for a scout drill program to test the large VMS target has commenced. The Company plans to conduct a prospecting program over the conductivity anomaly to determine the best locations for drill testing. The VMS target can be accessed by an existing network of forestry roads, and it is expected that drilling will commence in Q1/2024.
Qualified Person
The technical contents of this news release have been reviewed and approved by Bruce Counts, P. Geo., President and CEO of Storm Exploration Inc. and Qualified Person under National Instrument 43-101.
About Storm Exploration Inc.
Storm Exploration Inc. is a Canadian mineral exploration company focused on the discovery and development of economic precious and base metal deposits on five district-scale projects in Canada: Miminiska, Toogood, Keezhik, Attwood and Gold Standard.
Neither the TSX Venture Exchange nor its Regulation Services Provider (as that term is defined in the policies of the TSX Venture Exchange) has reviewed or accepts responsibility for the adequacy or accuracy of this release.
Forward Looking Information
This news release includes certain information that may constitute "forward-looking information" under applicable Canadian securities legislation. Forward-looking information includes, but is not limited to, the Company's strategic plans, future operations, future work programs and objectives. Forward-looking information is necessarily based upon estimates and assumptions that, while considered reasonable, are subject to known and unknown risks, uncertainties, and other factors which may cause the actual results and future events to differ materially from those expressed or implied by such forward-looking information. There can be no assurance that such information will prove to be accurate, as actual results and future events could differ materially from those anticipated in such information. Accordingly, readers should not place undue reliance on forward-looking information. All forward-looking information contained in this press release is given as of the date hereof and is based upon the opinions and estimates of management and information available to management as at the date hereof. The Company disclaims any intention or obligation to update or revise any forward-looking information, whether as a result of new information, future events or otherwise, except as required by law.
For further information, please contact:
Storm Exploration Inc.
+1 (604) 506-2804
bcounts@stormex.ca