Vancouver, B.C., September 25, 2023 – Storm Exploration Inc. (TSX-V: STRM) ("Storm" or the "Company") is pleased to announce that it has executed an option agreement with Prospector Metals Corp. ("Prospector") in which Storm can earn up to 100% in the Toogood Gold Project located along the north shore of Newfoundland, Canada (See Figure 1).
Project Highlights
District scale land package covering 118 sq-km and 28 km of strike length along a regional structural corridor that has proven to be prospective for gold deposits,
Includes the drill-confirmed high-grade Quinlan Zone:

Assay results from maiden drill program (2022) include: 23.90 g/t Au over 3.65 m, 18.27 g/t Au over 4.25 m and 9.40 g/t over 3.18 m.
High-grade gold mineralization is hosted within a felsic dyke and has been confirmed for 200 m along strike, 120 m down-dip and remains open in all directions.

Road accessible and fully permitted for drilling,
Numerous additional occurrences with visible gold identified across the property.
"The Toogood Gold Project is an exceptional opportunity for Storm," stated Bruce Counts, President and CEO of Storm. "The drill-confirmed high-grade gold at the Quinlan Zone underscores the potential for the discovery of a multi-million-ounce gold deposit."
Mr. Counts continued, "in addition, plans and permits are in place to expand and extend mineralization at the Quinlan Zone allowing Storm to begin advancing the project quickly."
Toogood Gold Project Overview
The Toogood Gold Project located on New World Island, approximately 65 km north of Gander, Newfoundland. The property is road accessible and lies at the northeast extent of the Exploits Subzone, a major structural corridor in central Newfoundland.  The Exploits Subzone trends 200km northeast / southwest across the island of Newfoundland, and hosts many of the significant gold deposits in the province, including Marathon Gold's Valentine Project which has an established resource of 2.7 Moz at 1.62 g/t Au (Reserve) and 3.96 Moz Au at 1.90 g/t (M+I).
Gold mineralization at Toogood is hosted by a suite of Devonian felsic dykes which crosscut the property, emplaced in the latter stages of a complex tectonic history.  Gold mineralization is associated with arsenopyrite, pyrite, trace chalcopyrite, and fine-grained native gold and is concentrated along brittle fault intersections.
Numerous gold occurrences have been identified on the property with the Quinlan Prospect being the most advanced. Drilling conducted by Prospector in 2022 confirmed high-grade gold at the prospect with a 857 m drill program. Drilling has demonstrated that the gold bearing dykes have a remarkably consistent dip and thickness. Mineralization has been confirmed along a 200m strike and 120m down-dip and remains open in all directions.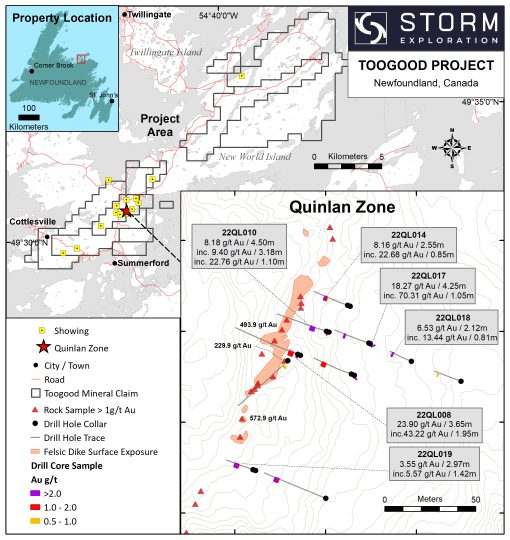 Next Steps
Storm plans to take a two-pronged approach to exploration on the Toogood project.
Drilling: The primary focus will be to extend gold mineralization at the Quinlan Prospect which is permitted for additional drilling and targets have been identified by Prospector.
Target Generation: Simultaneously, the Company will conduct a prospecting and soil sampling program over the numerous showings on the property with the goal of developing a pipeline of compelling drill targets.
Transaction Terms
Storm can earn up to a 100% interest in the Toogood Gold property by meeting two option milestones.
First Option
To earn an initial 55% interest in the Toogood Gold property, Storm must complete the following:
pay $10,000 in cash to Prospector within 90 days of the execution of the Option Agreement;
issue an aggregate of 4,000,000 Storm shares to Prospector, registered in the name of Prospector, or as otherwise directed by Prospector, as follows:

300,000 Storm shares, upon receipt of TSXV Acceptance (the "Effective Date");
400,000 Storm shares, on the first anniversary of the Effective Date;
500,000 Storm shares, on the second anniversary of the Effective Date; and
2,800,000 Storm shares, on the third anniversary of the Effective Date;

incur an aggregate of $3,500,000 in Expenditures on the Property, as follows:

$1,500,000, within 18 months following the Effective Date;
an additional $1,750,000, within 36 months following the Effective Date; and
a supplementary $250,000, within 36 months following the Effective Date should certain additional prospective licenses be acquired;

pay the remaining cash payments to the underlying vendors of the Toogood property (totaling $320,000 through June 2024).
Second Option
For Storm to exercise the Second Option (for 100% interest), the Company must issue to Prospector, the lesser of the following:
the number of Storm shares equal to 19.9% of the non-diluted share capital of Storm (after accounting for such issuance) on such date less any previously issued Storm Shares to Prospector pursuant to this Agreement, and
such number of Storm shares as shall have a value of $12,000,000,
Storm shares will be issued at the great of: (a) the 10-day volume weighted average price as of the trading date prior to the issuance date, (b) the issue price permitted under the rules and policies of the TSXV, or such other exchange on which the Storm shares are listed for trading.
Qualified Person
The technical contents of this news release have been reviewed and approved by Bruce Counts, P. Geo., President and CEO of Storm Exploration Inc. and Qualified Person under National Instrument 43-101.
About Storm Exploration Inc.
Storm Exploration Inc. is a Canadian mineral exploration company focused on the discovery and development of economic precious and base metal deposits on five district-scale projects: Toogood, Miminiska, Keezhik, Attwood and Gold Standard.
Neither the TSX Venture Exchange nor its Regulation Services Provider (as that term is defined in the policies of the TSX Venture Exchange) has reviewed or accepts responsibility for the adequacy or accuracy of this release.
Forward Looking Information
This news release includes certain information that may constitute "forward-looking information" under applicable Canadian securities legislation. Forward-looking information includes, but is not limited to, the Company's strategic plans, future operations, future work programs and objectives. Forward-looking information is necessarily based upon a number of estimates and assumptions that, while considered reasonable, are subject to known and unknown risks, uncertainties, and other factors which may cause the actual results and future events to differ materially from those expressed or implied by such forward-looking information. There can be no assurance that such information will prove to be accurate, as actual results and future events could differ materially from those anticipated in such information. Accordingly, readers should not place undue reliance on forward-looking information. All forward-looking information contained in this press release is given as of the date hereof and is based upon the opinions and estimates of management and information available to management as at the date hereof. The Company disclaims any intention or obligation to update or revise any forward-looking information, whether as a result of new information, future events or otherwise, except as required by law.
For further information, please contact:
Storm Exploration Inc.
+1 (604) 506-2804
bcounts@stormex.ca