Dear Fellow Investors, Colleagues and Friends,
Over the past year, Storm Exploration Inc. ("Storm") has been focused on establishing formal agreements with the three First Nations in whose traditional territory our projects are located: the Eabametoong, the Naicatchewenin and the Nigigoonsiminikaaning. It has been a lengthy but important process that is nearing its end; and, once complete, the Company can turn its attention to advancing the exceptional projects in its portfolio.
Fort Hope Projects: Miminiska, Keezhik & Attwood
Storm has been in consultation with the Eabametoong First Nation ("EFN") regarding its Miminiska, Keezhik and Attwood projects since March of 2022. A series of serious and unfortunate events within the community, including the Covid-19 pandemic and a recent water crisis, have caused delays in our discussions; however, Storm has established a cordial and mutually respectful relationship with Chief and Council.
Storm participated in two public community meetings to discuss its projects and is now in the final phase of negotiating a Memorandum of Understanding ("MOU") that will define how the company works and communicates with the EFN as the projects progress. I remain optimistic that Storm will have an MOU in place in time to complete a drill program at Miminiska before the end of 2023.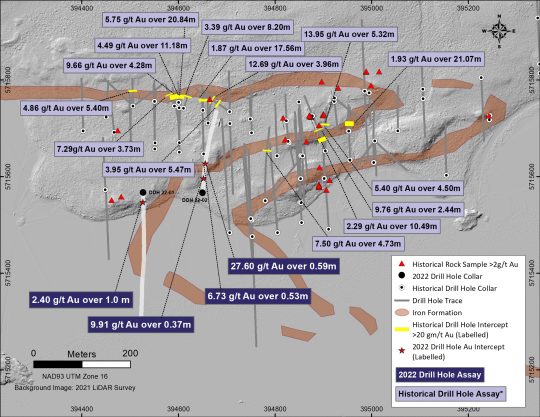 The Miminiska property remains the company's highest priority. Past drilling has demonstrated the presence of significant gold in banded iron formation over a 12km distance on the project. Historical results at the Miminiska Prospect include 5.75 g/t Au over 20.8m* and 13.95 g/t Au over 5.3m* (see figure 1) and there are several untested targets that have the potential to significantly extend and expand the footprint of gold mineralization.
Gold Standard Project
The company's Gold Standard project, located 60km north of Fort Frances Ontario, lies within the traditional territory of two First Nation communities: the Naicatchewenin and the Nigigoonsiminikaaning. On August 3rd, I was pleased to announce that Storm had entered into an MOU with the Naicatchewenin that establishes a framework for ongoing consultation and provides the community with an opportunity to participate in the project through employment, training, and business development.
Storm is working towards a similar agreement with the Nigigoonsiminikaaning. In June, I had a meeting with the community Councillors responsible for resource development to discuss the project and have since submitted a draft MOU which is being reviewed by Chief and Council. The company's goal is to have the MOU with the Nigigoonsiminikaaning in time to complete a drill program in early Q4/2023.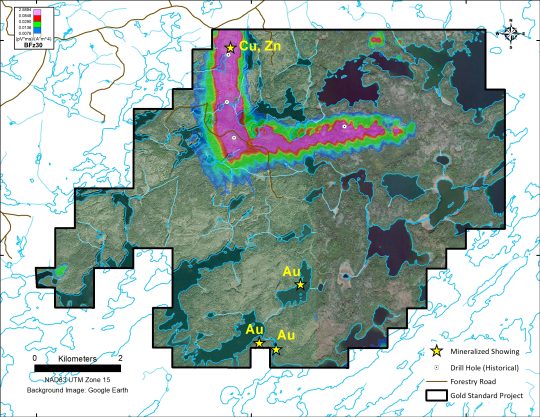 The company is eager to test the large conductivity anomaly identified in the 2022 airborne electromagnetic survey. The feature has a strike length of more than five kilometres (see Figure 2) and occurs in host rocks that are often associated with Volcanogenic Massive Sulphide mineralization. This is supported by copper and zinc mineralization noted in shallow historical drill holes completed between 1969 and 1971.
Storm recently was recently accepted into the Ontario Junior Exploration Program. This program is administered by the Ontario Ministry of Mines and was created to support early-stage exploration. This will provide financial support of approximately $60,000 towards the Company's exploration program at Gold Standard.
Project Review
Finally, Storm has excellent access to deal flow and regularly reviews new projects with an eye towards acquiring exceptional mineral properties in stable jurisdictions on reasonable terms. The company has set a high bar for new acquisitions to ensure that they are accretive and have the potential to deliver significant value to shareholders.
In closing, I want to acknowledge how frustrating it has been to see the erosion of the company's value in the past months. Delays in Storm's discussions with the EFN coupled with challenging market conditions have conspired to reduce the company's market capitalization to an all-time low. That said, Storm is on the cusp of achieving its goal with First Nations and I am adamant that patience and persistence will result in success.
Sincerely,
Bruce Counts
President & CEO
Storm Exploration Inc.